Because simplicity,
… is the key to happiness & effortless beauty.

Get glamorous
with jewelry that works with life!
Shop the customer favorites!
---

100% Handcrafted Jewelry
Why, hello there! My name's Joe Han Lee and every piece of jewelry from Irresistibly Minimal is entirely handcrafted by me, piece-by-piece.
I hope that you'll find your very own go-to everyday favorite piece, and may that very special piece be a part of you and a source of everyday happiness to you! 😊
Warmest, Joe.
Shop My Signature Collection >
Custom-Fitted To You
Every piece of jewelry at Irresistibly Minimal is entirely handcrafted. Thus, if requested, they may be customized to fit you like-a-glove! So, you can fully enjoy life's moments without fussing over uncomfortable jewelry.
The designs are simple, timeless, and chic, so they'll complement, rather than overpower… well, You! 😍
Shop All Jewelry >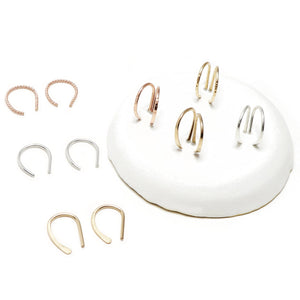 In with the new,
… never out with the old!
I'm not big on trends so my pieces are designed to never go out of style.
Shop my latest collection!
---
Shop my featured collection!
---
Like, comment, follow,
… and have some fun with all of us on Instagram!
We love you already! @IrresistiblyMinimal